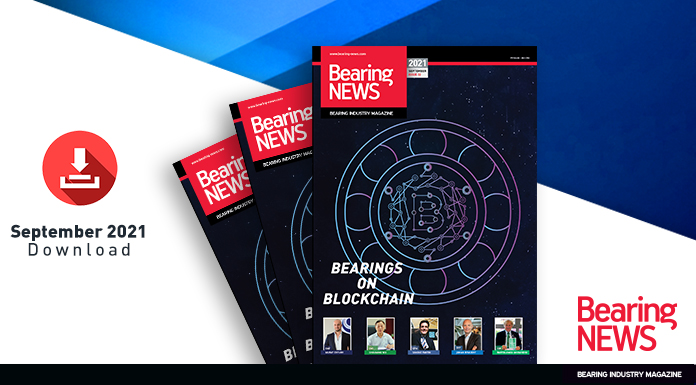 read the e-Magazine, download the .pdf version or subscribe for the print edition.
Bearings on Blockchain, to help fight counterfeit bearings
This new edition of BearingNews headlines the strategic solutions being implemented to stop counterfeit bearings. Explore how Blockchain, a distributed ledger technology (DLT), represents a valid and innovative tool to beat counterfeits. Hear from Mr. Johan Bravert, Director of Brand Protection at SKF, who addresses the subject of fake bearings with a profound emphasis on awareness initiatives. And in our final segment on this topic, read how SIC Marking is facilitating traceability to help ensure all bearings are genuine.
Further in this issue, we are proud to release the Bearing Industry Events Agenda (2021-2022). This comprehensive list of upcoming bearing industry events will pinpoint the dates, times and formats of future bearing events. The coronavirus pandemic has altered the structure of many traditional events by accelerating digitalization. Find opportunity within the unique variety of events, both in-person and online, beginning OCT 05 with the 1st international Bearing World Day, followed by a series of other important industry events.
Finally, explore stories of achievement and ingenuity through our interviews with key members of the bearing community. We speak to the board of directors at ISB as they celebrate their 40th anniversary. Mr. Shouming Wu, founder of CMI, details his 50-year journey in the bearing industry. Bearings fully made in Italy explained by Mr. Simone Fantin, Vice general Manager of CPM bearings. And to conclude our discussions, hear from Mr. Murat Erturk, Chief Executive at OAV.
What's Rolling..
What's Rolling further in the Bearing Industry. See what has happened in the last 6 months, learn details about key companies and trends, announcements, product developments, and exciting technological advancements. All this and more can be found in this September issue of BearingNews magazine.
We hope that you will enjoy it!
BearingNews editorial team